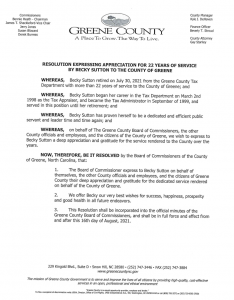 On September 7, 2021, the Greene County Board of County Commissioners unanimously passed a resolution expressing appreciation for 22 years of service by Becky Sutton to the County of Greene. Becky Sutton, Greene County Tax Administrator, retired on July 31, 2021.
"Mrs. Sutton has always executed the task of Tax Administrator with absolute knowledge of the state and local general statutes and treated our taxpayers consistently.  Dealing with tax issues is challenging at best.  However, Mrs. Sutton has proven her desire and ability to be fair and do whatever is right within the law.  She has been a valuable employee and will be assuredly missed.  Thankfully,  I feel we are poised with an appropriate succession plan and look forward to working with our new Tax Administrator.  I certainly wish Mrs. Sutton much happiness in her retirement." Bennie Heath, Greene County Board of Commissioners Chairman, said.
"I have always valued the leadership and professionalism Becky demonstrated and instilled in her department.  We will certainly miss that." Kyle DeHaven, Greene County Manager, said.